The Pros and Cons of 888poker
The online poker industry has become saturated; there are now so many online casinos out there that it's becoming difficult to tell them apart. 888poker is one of the more popular options, and also has some of the best name recognition in the industry. But does it live up to the hype? Let's take a look at what they have to offer.
Registering for an Account
First things first, before you can get in on the action, you will need to register for an account. You can do this via the 888poker client application, which you can download from their website. You will need to provide them with a valid e-mail address, which you will have to be able to access in order to verify. You may also be asked to provide a scan or photo of an approved ID document. Verifying your identity is a legal requirement for players in certain territories, so don't worry if you are asked to provide one.
In any case, registration is quick and simple. Even if ID documents are required, the process for uploading them is simple and streamlined.
Welcome Bonuses
One of the key ways that online casinos set themselves apart from one another is by offering their players welcome bonuses. These usually consist of some combination of free plays and deposit matches, but a growing number of sites like 888poker have found other ways of adding more value to new players' first deposits.
Most online casinos will require a minimum deposit before their welcome bonuses kick in. 888 have gone a different route though, and will credit your account with £20 as soon as your email address has been verified. You will also begin to receive tournament tickets, which enable you to enter intospecial tournaments (more on that later).
This generous introductory offer is better than what many of 888's rivals are offering. On top of this, you will also receive bonus credit on top of your first deposits. Unfortunately, 888 have chosen a relatively convoluted way of dishing out this bonus credit. Credit is added to your account when you earn 100 bonus points, with each £1 you spend earning 2 bonus points.
The introductory offer from 888 is great for many players. However, if you're planning on depositing more than £100, you can earn more generous freebies elsewhere.
The Games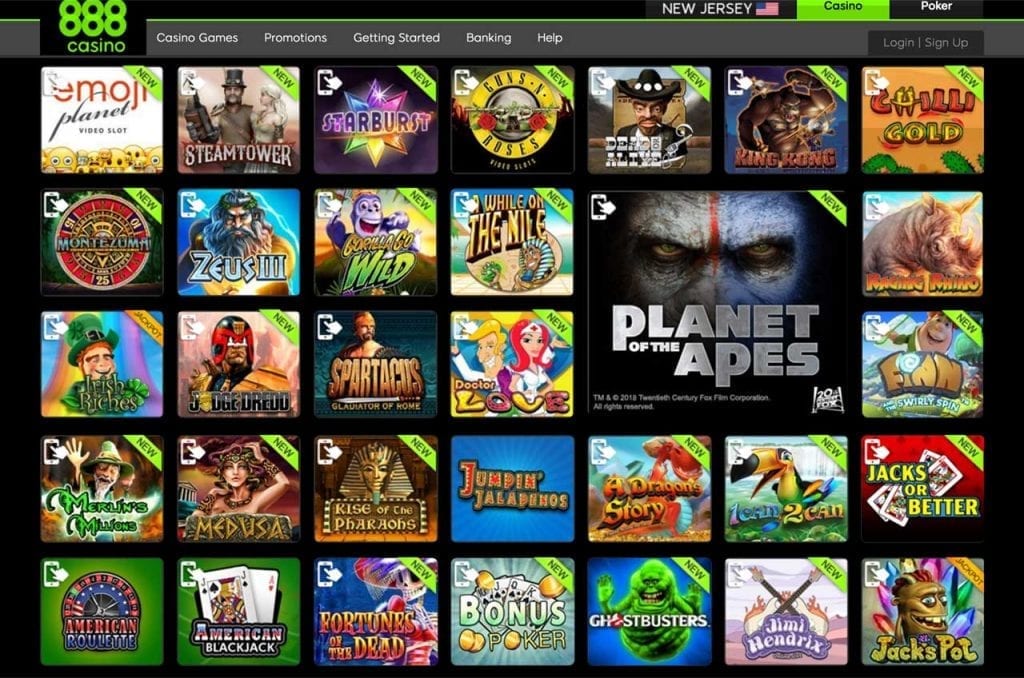 The most important component of any online casino is its games library. It doesn't matter how sleek the interface is or how generous the introductory offers are – if the games are rubbish, then you aren't going to be sticking around very long.
Fortunately, each of 888's poker variants is presented beautifully with responsive and intuitive controls. 888pokeroffers every poker variant you could possibly want to play and even throw a few of their own custom versions into the mix. It's fair to say that some of these are more enjoyable than others, and some suffer from a relative lack of player interest.
Texas Hold'em is where you'll find most of the action. The stakes for no limits games range from £0.01/£0.02 all the way up to £500/£1000, although the vast majority of games are low-stake. If you prefer higher stakes and are planning on spending a couple of hundred pounds or more on chips, it might be worth considering a different casino that offers more generous bonuses on your first deposits. For games with a fixed-limit, we struggled to find anything other than £0.02/£0.04 tables.
888poker offer an excellent online poker experience when you do get into a game. Most players will have no problem finding and jumping into a game of Texas Hold'em, but high-stakes players might find it frustrating.
Tournaments
One of 888poker's standout features is its tournament system. As part of your sign-up bonus, you will receive some £0.50 tournament tickets. 888's tournament tickets each have an assigned value and are used to enter into tournaments with a corresponding buy-in limit. So, with your £0.50 tournament tickets, you will be able to enter into tournaments with a £0.50 buy-in.
There are a couple of different recurring tournaments that 888 offer – your welcome bonus tournament tickets will enable you to enter into the 'Fish'n'Chips' low buy-in multi-table tournaments. These tournaments are run every day and feature large, guaranteed prize pools. The Fish'n'Chips tournaments are perfect for relatively inexperienced players and are a fantastic first tournament experience for anyone looking to take their poker game to the next level.
Every Sunday, 888poker run their Sunday Mega Series. These are high stakes tournaments that attract thousands of players from all around the world. Buy-ins for these tournaments range from £5 all the way up to £300 or more. The guaranteed prize pool can go as high as £100,000.
Rewards Program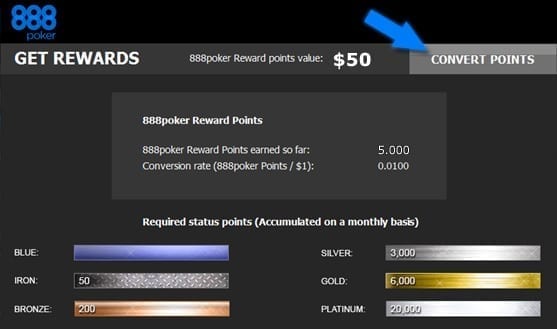 888poker's rewards program is quite different from most of its competitors. As players spend money and make deposits, they will earn loyalty points. The more points players accumulate, the better the rewards that they gain access to. As you rise through the levels, you will earn tickets and tokens that can be redeemed for further bonuses.
As well as receiving points for making deposits, players can also receive them for completing random challenges. Many of these challenges can be completed just by playing the games as you would anyway – you don't need to go out of your way to earn them.
On the whole, 888's rewards program is one of the better ones that we've encountered. Lots of online casinos will give players bonuses when they first sign up, but will then largely neglect them. It's refreshing to find a casino that continues to offer value to the player.
Other Things to Consider
All things considered, 888poker is one of the best platforms for playing online poker. The welcome bonuses aren't the best available, but unless you are planning on spending a couple of hundred pounds, you aren't going to be missing out on much. Unlike some of its competitors, 888 doesn't offer 24/7 live support. Instead, support is given over email.
The range of payment processors supported is much smaller than many of 888's competitors. However, if you live in a supported country, you shouldn't have any problems depositing or withdrawing money. Withdrawals are slower than average but should be resolved in about 5 days.
If you're looking for a reliable and secure online poker platform, 888poker is a solid choice. The few drawbacks we've highlighted do nothing to spoil the experience of actually playing poker with other players.