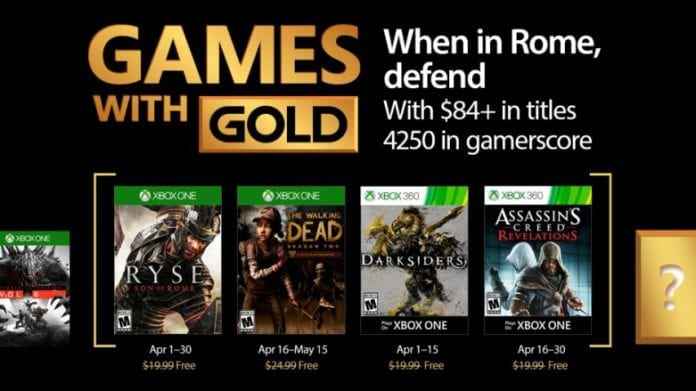 The new Games with Gold April 2017 releases have been officially confirmed by Microsoft and will be launched next week. It means fans have until Friday, March 31, to grab this month's selection of titles, if they haven't already been claimed.
Fans have a good couple of days to download Layers of Fear on Xbox One, as well as Xbox 360 title Heavy Weapon. There is no such rush to download Evolve: Ultimate Edition, which will be available until April 15.
Confirming an earlier leak, Games with Gold April includes Ryse: Son of Rome, Walking Dead Season 2, Darksiders and Assassin's Creed Revelations.
The full list can be found below…
Ryse Son of Rome available from April 1 – April 30
Telltale's The Walking Dead Season 2 available from April 16 – May 15
Darksiders available from April 1- April 15
Assassin's Creed Revelations available from April 16 – April 30
Ryse Son of Rome: "Amidst the chaos of the late Roman Empire, become soldier Marius Titus and embark on a perilous campaign to avenge the death of your family and defend the honor of Rome. In Gladiator Mode, step into the Colosseum and fight for the glory, spectacle, and entertainment of the crowds."
Telltale's The Walking Dead Season 2: "The sequel to 2012's Game of the Year continues the story of Clementine, a young girl orphaned by the undead apocalypse. Left to fend for herself, she has been forced to learn how to survive in an unforgiving world.Experience what it's like to play as Clementine, meet new survivors, explore new locations and make gruesome decisions in this five-part game series of choice and consequence."
Source: Express.co.uk