Will launch alongside Series X console this November
Like a teenager persistently picking at a spot on the end of their nose, Microsoft have constantly tweaked and rearranged their dashboard design for as long as I can remember.
This iteration seems to be their latest attempt to move closer to the successful scrolling frame design used by Sony since the launch of the PS4 and Nintendo since the Switch was released.
Check out the screenshot: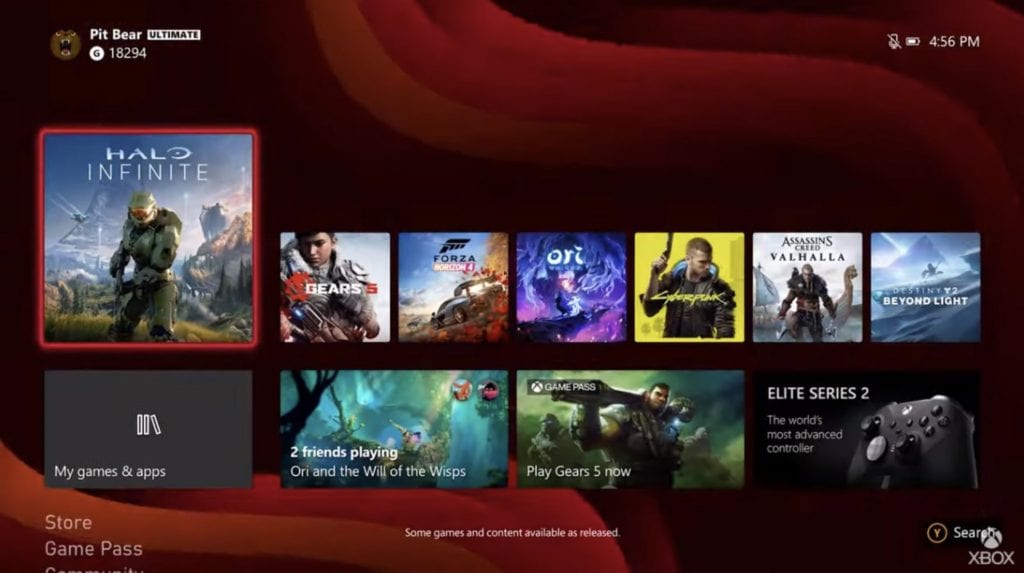 An official blog post from Xbox Wire states: "The new Xbox look and feel is designed to be faster to use, more approachable and visually appealing. This holiday it will be shared across all Xbox mobile apps, Xbox Game Pass on PC, and of course Xbox One and Xbox Series X consoles. Text is more readable, elements on screen are easier to understand at a glance, and accomplishing your tasks is faster than ever. This includes tile shape, fonts, an updated illustration style, and more. The overall layout of most of the console pages remains familiar, just faster and more focused."
Speed is key
It's not just about slick new looks though, the speed of the interface has been dramatically increased, the post boasting: "The Home screen will load more than 50 percent faster when you boot your Xbox, and is almost 30 percent faster to load when you're returning from a game. Furthermore, these improvements use 40 percent less memory than what was previously required.
Earlier this month we unveiled the new Microsoft Store on the console, rebuilt with your feedback in mind – and it's fast! We've cut the app launch time to about two seconds, and updated navigation makes it quicker and easier to find what you're looking for. It's easy to understand at a glance what's included or discounted with any memberships you have, like Xbox Game Pass."
Here's a bunch of fashion conscious employees in a groovy warehouse explaining what's so "groundbreaking" and "next-gen" about it:
What do you reckon? I think it's nice, cleaner and more coherent than the dashboard has been for a lot of it's life on Xbox One. Thankfully those Windows 10 like UI inconsistencies are being ironed out. Does that mean Windows is next? That would be very welcome and let's face it, very overdue.