Sony's Days of Play PS4 sale is live, complete with huge discounts on console bundles, games, accessories and PlayStation VR.
The Days of Play sale runs until June 18 on physical items and June 21 for digital game downloads.
And the sale has started with a bang, as Sony reduces the price of the 500GB PS4 with Horizon Zero Dawn to just £199.99.
But the Horizon Zero Dawn PS4 bundle is only available until midnight tonight, so you'd better act fast.
Elsewhere, a PlayStation VR headset with a PlayStation Camera, VR Worlds and Farpoint costs just £349, DualShock controllers have been reduced to £39.99, while a 12 month PlayStation Plus subscription costs £29.99.
Game discounts include Mass Effect Andromeda, GTA 5, Uncharted 4, For Honor and lots more.
You can see a selection of the best PS4 deals and prices below…
PlayStation Days of Play sale items are available from GAME, Amazon, ShopTo, Smyths, John Lewis and Very.
There are also game discounts available from the PlayStation Store.
The PS4 Days of Play sale items in full…
500GB PS4 consoles with Horizon Zero Dawn for £199.99 for one day only
500GB PS4 consoles with an extra DUALSHOCK®4 and a range of games to choose from, for £249.99. 1TB also available for £299.99
PS4 Pro with Horizon Zero Dawn and WipEout Omega Collection for £349.99
PlayStation VR with PlayStation Camera, VR Worlds and Farpoint (software only) for £349.99
PlayStation Plus 12 month memberships for £29.99 for the first year
A choice of one DUALSHOCK 4 wireless controller in a range of colours for £39.99
Nacon Revolution Pro, the Official Licensed Controller for PS4 and PS4 Pro, for £69.99
Wireless Stereo Headset 2.0 for £44.99, Platinum Wireless Headset for £99.99
Stand out game deals include Horizon Zero Dawn for £34.99, Battlefield 1 for £24.99 and Star Wars Ultimate Edition for just £8.99.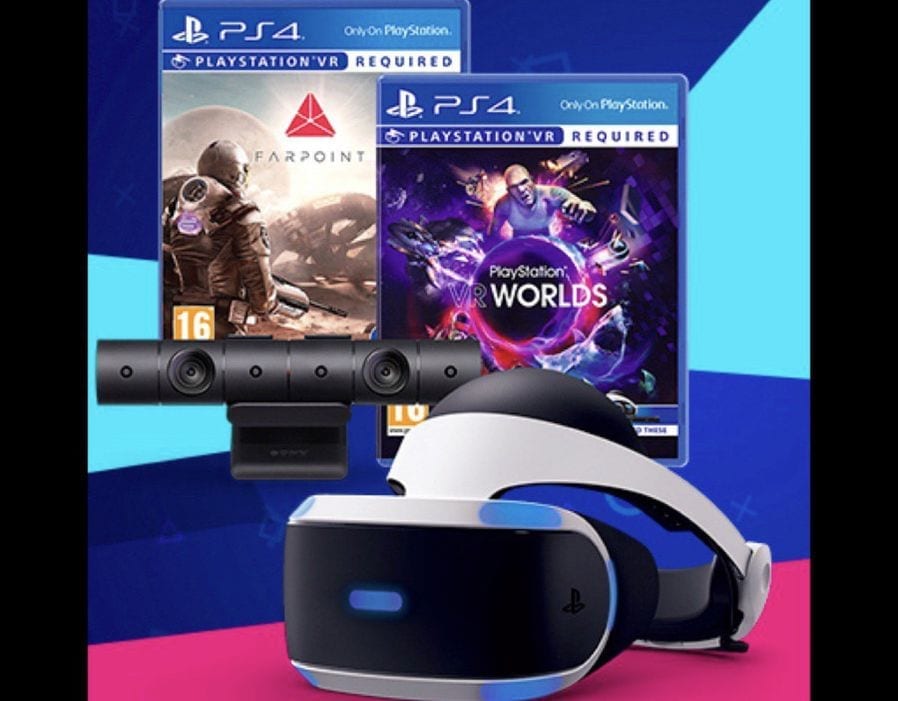 The list of PS4 Days of Play game discounts…
Horizon Zero Dawn – £34.99
Battlefield 1 – £24.99
Star Wars: Battlefront Ultimate Edition – £8.99
Ghost Recon Wildlands Deluxe Edition – £44.99
Grand Theft Auto 5 – £29.99
Nigh – £34.99
Uncharted 4 – £19.99
The Last of Us Remastered – £19.99
For Honor – £34.99
Mass Effect Andromeda – £29.99
Rise of the Tomb Raider – £24.99
The Last Guardian – £19.99
Bloodborne – £19.99
Uncharted Collection – £19.99
Titanfall 2 – £19.99
NBA 2K17 – £24.99
Watch Dogs 2 – £24.99
Call of Duty Infinite Warfare – £24.99
Ratchet and Clank – £19.99
Steep – £24.99
God of War 3 -£19.99
Elder Scrolls Online – £15.99
FIFA 17 – £29.99
NHL 17 – £19.99
Until Dawn – £19.99
PlayStation VR Worlds – £24.99
Robinson: The Journey – £24.99
Gravity Rush 2 – £34.99
RIGS – £34.99
Battlezone – £29.99
Source: Express.co.uk