Some of the best (and cheapest) high-end gaming products you can buy right now come from brands you may never have heard of.
Any self-respecting nerd who cares about the quality of their build will always be keeping an eye out for the latest tech deals on all manner of kit, be it peripherals or internal components.
And although we're all aware of the big brands (ASUS, MSI, Razer, Alienware, etc.) it may surprise you to learn that there are excellent alternative products from recent start-ups and smaller companies alike that can easily match the quality of their more famous siblings – and most importantly, significantly undercut them on price.
Here I've listed three items that if you're in the market for these types of products you should take a look at. Seriously, it could save you a wad of cash.
Pick #1 – XMG Fusion 15 (Laptop)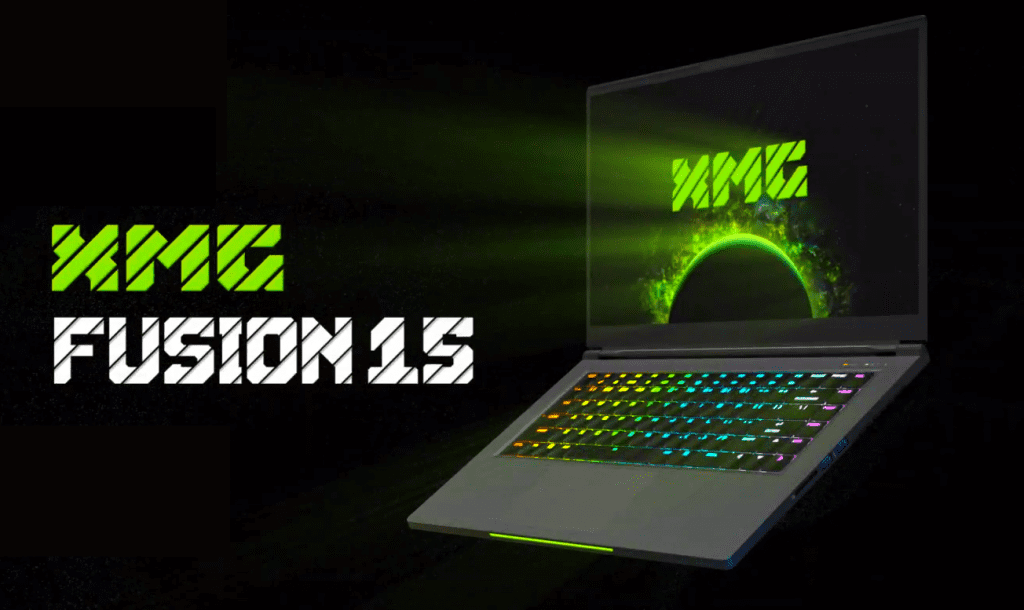 Laptops significantly outsell desktops these days and as far as gaming's concerned, there are popular products ranging from £500-£3000, which is an enormous price spectrum to choose from. However, the key consideration with a gaming laptop at any price point is the balance between price/peak performance/thermals/weight/battery life – And this where the XMG Fusion is so good.
The XMG Fusion 15 is the European version of a project collaboration between Intel and OEMs around the world to design the ultimate gaming laptop solution from the ground up.
The chassis is built using a high-tech magnesium alloy, making it much lighter than most other 15-inch machines (just 1.89 kg) and the properties of the metal mean it is far better at dissipating heat than traditional plastics. This virtually eliminates 'throttling' (an automated process to keep your components from melting when under consistent high load) meaning you can game for hours without fear of loss of performance. Add into that mix a 93 Wh battery and you get an exceptional amount of time away from the plug socket too.
It even features a mechanical keyboard – a rarity for laptops – and can be configured up to an RTX 2070 Max Q. So that 144hz 1080p screen will be spitting out monster frame rates in virtually any game you can throw at it.
The base configuration starts at €1500 (about £1300) and will get you an RTX 1660Ti, i7-9750H CPU and 8GB 2666mhz RAM. Not the highest spec as of early 2020, but combined with the incredible thermal performance, lightweight frame and excellent battery life, you'll struggle to find anything else close to this good at this price point.
Click here to buy it direct from the XMG website.
Pick #2 – Pixio PX7 Prime (Monitor)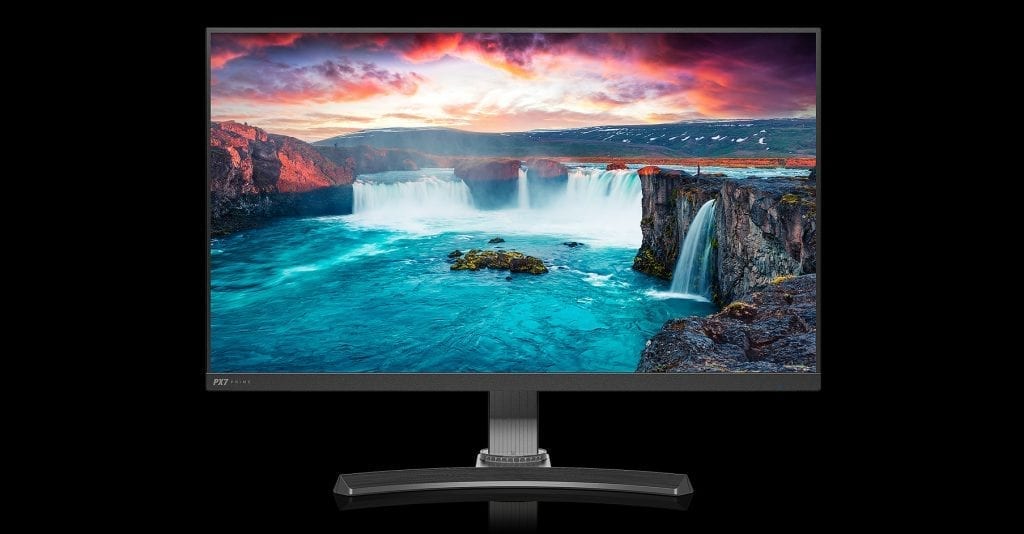 A great gaming machine is all well and good, but you need a great screen to go with it. The gaming monitor space is also furiously competitive with many different resolutions, refresh rates, panel types and screen sizes on offer. If we had to pick, we'd say 27" 1440p 144 Hz (or higher) IPS screens are the sweet spot right now. This is where we are introduced to the Pixio PX7 Prime.

The company was founded in 2016 and specialises in affordable gaming monitors, with a particular focus on eSports. With the PX7 Prime, we think they hit a home run.
The PX7 Prime uses one of the latest 10 bit (8 bit + FRIC) IPS panels with a 165 Hz refresh and excellent response times of 4.1 milliseconds at 80% and 12.1 milliseconds at 100% of colour transition. It supports 95% of the DCI-P3 colour space and has good colour and gamma accuracy out of the box.
We also found the panel uniformity to be excellent, with no noticeable torch lighting, just that typical IPS glow. The super-thin bezels are also a great bonus.
Clarity at high refresh rates is excellent on the 'Middle' overdrive setting, instantly improving your gameplay experience over lesser panels and lower refresh rate screens.
It also supports adaptive sync (Freesync/G-SYNC Compatible) and has basic HDR 400 support.
The stand is very good. It has a fairly small footprint and allows a reasonable range of adjustment in all 4 directions (tilt, swivel, height and aspect).
But best of all, the PX7 retails for just £400, which is at least 20% cheaper than most well known competing brands that offer similar specs. According to the company website, you'll also get a 24-month warranty and 'zero dead pixels guarantee' as standard.
Click here to buy from Amazon.
Pick # 3 – Glorious Model O (Mouse)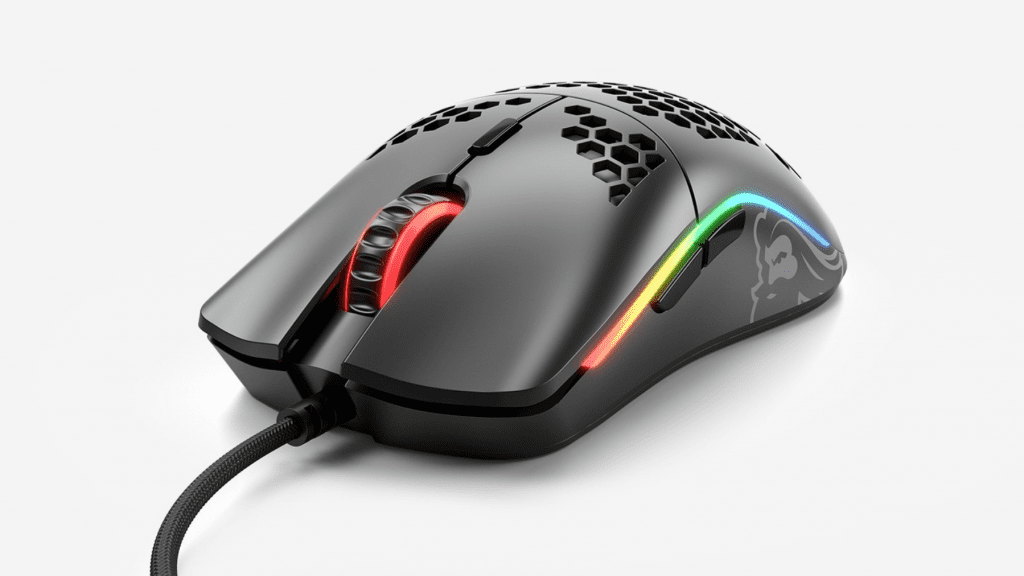 Competitive gamers will always need a great wired mouse, and the Glorious Model O is our absolute favourite.
The most striking design element is the honeycomb outer shell, which not only allows you to see into the inner workings, but it also makes the device incredibly light in the hand. Not that computer mice tend to be heavy, but once you use the Model O you'll never want to touch a non-honeycombed mouse again!
The holes also help the mouse feel breathable in the palm, useful for keeping sweat from ruining your raid on a hot summer's night of focused gaming.
The other stand out design choice is the mouse's lead, which is best described as looking and feeling like a shoelace. It's utter genius. Super light and lacking in any tension that would twist and tie itself around objects like an ordinary chord might, you'll soon forget you're using a wired mouse at all.
It also glides effortlessly and has a high precision sensor with a 1000 Hz polling rate, so you needn't worry about it letting you down in competitive situations.
But best of all, once again, is its price. The Model O currently retails for an extremely reasonable £45 on Amazon and if you're patient, you may be able to get it for as low as £35 in the glossy black finish I purchased for myself.
Click here to buy from (you guessed it) Amazon.
Summing up
Finding good deals on computer tech can be a tedious process as there are so many products out there to choose from. Equally challenging can be cutting through the marketing jargon to work out exactly what you're buying. Established brands have a big advantage in terms of recognition, and will often exploit customer loyalty to make their desired profit margins.
But as you can see, there are alternatives that not only tick all the boxes in terms of specs but can significantly lighten the load on your wallet – should you choose to take a chance on a new brand.
There are companies out there producing high-quality products at cheaper prices, therefore we should all be giving these plucky upstarts our keen attention.
Note: We've included a couple of Amazon Affiliate links in this article – if you buy from these we may get a small chunk of change.